L A Reinforcements Welcome
L & A Reinforcements are the only UK based contractor specialising solely in the construction of guidewalls for the piling industry.
To date we have constructed in excess of 1000 guide walls of various diameters, configurations and complexity.
L A Reinforcements Services
As the Uk's premier guidewall installer we are aptly placed to help you complete your project on time, on budget and with all safety aspects covered. To read about specific services click on one of the links below.
L A Reinforcements Our Clients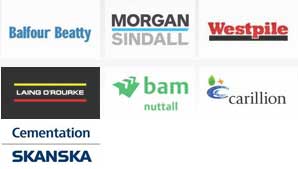 Balfour Beatty, BAM Nuttal, Byland Engineering, Bachy Soletanche, Birse, Bauer Cannon Piling, Costain, Carillion, Colets Piling Evans Piling, Expanded Piling, GM Piling, Cementation SkanskaReddington, Keller, Kier, KMI, Keltbray Laing O Rouke, McGee, Morgan Sindall Murphy, Miller Piling, May Gurney, Morrisroe Okeefe, Operis, O Shea, Patrick Parson Rock & Alluvium, Skanska Cementation Stent, Tritech, Van Elle, Westpile, Northumberland Estates